Dark under eye circles and puffiness can be a result of heredity, allergies, poor sleep, late nights, being overworked or stressed out, etc. No matter what the cause, L'élan Vital Eye Mask is the solution for getting rid of dark under-eye circles and eyebags.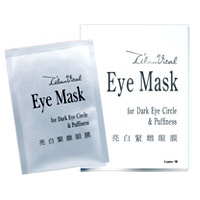 40488790
L'élan Vital Eye Mask for Dark Eye Circles & Puffiness
Product of Taiwan
What Causes Dark Eye Circles & Puffy Eyes?
Unsightly under eye dark circles are the result of oxidation and minor pooling of blood. The blood comes from leaking capillaries during a process called haemoglobin degradation. When haemoglobin is broken down, its remaining components have a dark blue-black colour.
Eye bags are caused by fluid retention or when fluids get trapped in the tissues under the delicate eye area. They can make you look haggard, ill and much older than you really are.
L'élan Vital Eye Mask
addresses the root of the problem to dramatically diminish
the appearance of dark eyes circles & eye bags
in just 20 minutes!
L'élan Vital Eye Mask is made from a combination of clinically proven actives, including Eyeliss™ (Hesperidin Methyl Chalcone, Palmitoyl Tetrapeptide-3), Haloxyl™ (Chrysin, Palmitoyl Oligopeptide) and AC-Dermapeptide Lifting™ to stop serious dark circles and eye bags and prevent their recurrence. Click here for more info on the ingredients.
Eye Care Tips
The skin around your eyes is about three times thinner than the skin on the rest of your body. It is very delicate and often the first area to show signs of aging. Here are some tips to keep your eye area in great condition.
Don't rub your eyes! While you are at work, make sure you take regular screen breaks and drink plenty of water so that your hard working peepers are revitalized. Also, remember to blink regularly to keep the surface of the eyes moistened and clean.
At home, give your eyes plenty of care by using masks especially designed for the eye area like the L'élan Vital Eye Mask and rejuvenating eye creams or gels to complete the treatment. Your eyes will be twinkling in no time!
Directions for Use:
Remove eye make-up (if any), cleanse face thoroughly and pat dry. Place one mask under each eye, with the wide end of the mask towards the outer corner of the eye. Leave on for 15-20 minutes, then remove and discard. Do not reuse. No rinsing needed. Use 2-3 times weekly for best results.
Ingredients:
Aqua, Aloe Barbadensis Leaf Juice, AC-Dermpeptide Lifting™ (Prunus Amygdalus Dulcis Seed Extract), Hydrolysed Collagen, Chamomilla Recutita (Matricaria) Flower Extract, 1,3-Butylene Glycol, Eyeliss™ (Dipeptide-2, Hesperidin Methyl Chalcone, Palmitoyl Tetrapeptide-3), Haloxyl™ (N-Hydroxysuccinimide, Chrysin, Palmitoyl Oligopeptide, Palmitoyl Tetrapeptide-7), Sodium Hyaluronate, Trehalose, Acetyl Hexapeptide-8, Arnica Montana Flower Extract, Ginkgo Biloba Extract, Xanthan Gum, Dipotassium Glycyrrhizate, Methylchloroisothiazolinone & Methylisothiazolinone, Fragrance


You can save UP TO 100% on freight when you buy two or more SuperSelections products at the same time.