For Daily Detox
& Cellular Rejuvenation
Chlorella is a truly amazing natural food – whole, pure and complete. This fresh water alga provides protein, carbohydrate, essential fatty acids, active enzymes, fiber, vitamins, minerals, trace minerals, polysaccharides and other phytonutrients to optimize health and wellbeing. It is the richest source of chlorophyll available for human consumption; contains more "feel-good" vitamin B12 than beef liver; has a high protein content: 50-60%; has all the essential amino acids (including a high content of lysine) and contains all the complex chemical compounds necessary to the protoplasm of life!
Chlorella is considered an adaptogen that helps to normalize body functions. Research indicates that its unique
Chlorella Growth Factor (CGF)
promotes healthy weight and height gains in growing children. Its immunity-enhancing effects can help to banish colds and flu, relieve arthritic conditions and hasten healing in gastritis. It has also proven to be beneficial in lowering cholesterol and reducing high blood pressure.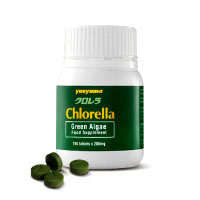 20308803
Yaeyama Chlorella
(150 tablets x 200 mg)

Product of Japan
Yaeyama Chlorella
is made from 100% premium grade powdered chlorella, cultivated in clean, pollution-free Ishigaki Island , Japan . Patented state-of-the-art cultivating and processing methods are used to retain its freshness and potency, while ensuring the highest nutrient content and digestibility. Taken regularly, chlorella increases energy and stamina, and promotes a more youthful appearance. Its multi-nutrient complex makes chlorella ideal for athletes and vegetarians.
Directions for Use:

Take 5 to 10 tablets daily, preferably on an empty stomach.

Ingredients:
Analysis of dried Yaeyama Chlorella per 100g

Protein

53-66g

Carotene


10-80mg

Fat

6-15g


Vitamin A

5000-45000 I.U.

Carbohydrate

10-20g

Vitamin E


11-22 I.U.

Fiber

1-4g


Vitamin B1


1-3mg

Ash

5-7g


Vitamin B2


2.5-7mg

Moisture

3-6g


Vitamin B3

15-30mg

Chlorophyll


1500-3000mg

Vitamin B6


0.6-2mg

Calcium


60-160mg

Vitamin B12

0.02- 0.05mg

Magnesium

150-500mg

Vitamin C


15-70mg

Iron

80-200mg

CGF

12000-26000mg

Does not contain fillers, binders, excipients and sugar. No artificial colors or flavoring, additives, stabilizers, animal substances and gelatin.
Recognition:
| | | | |
| --- | --- | --- | --- |
| | | | |
| Certificate of Patent | Okinawa superior product award | HACCP | |

You can save UP TO 100% on freight when you buy two or more SuperSelections products at the same time.