News
---
| | |
| --- | --- |
| January 29, 2014 | |
---
President's Day Weekend 2–Day Sale @ eCosway!
We are excited to announce our first "extra" promotion of 2014 – the President's Day Weekend 2–Day Sale! Available in–store only for 2 days (February 15th & 16th), we have selected a handful of our wonderful products and are offering them at amazing prices for these two days only. Be sure to hurry over to your local eCosway store as stocks/IOU's are limited for this sale. For more information and listing of products on sale, visit our Facebook at www.facebook.com/ecoswayus closer to the date.
We hope to see you all there and ready to stock up on the products you know and love!
Yours faithfully,
The Management
eCosway USA
---
| | |
| --- | --- |
| September 30, 2013 | |
---
VIP Auction Update
Attention VIP members!
As we are constantly evaluating our processes and programs, we have decided to no longer offer VIP auctions. RP points can still be redeemed for our amazing rewards products available in store and online for your convenience.
Yours faithfully,
The Management
eCosway USA
---
| | |
| --- | --- |
| June 03, 2013 | |
---
Getting A FREE VIP Membership Just Got Easier!
GREAT NEWS!
We are pleased to announce that, effective June 3rd, 2013, the FREE VIP Membership criteria will be revised to make it easier for members to invite their prospects to become a VIP Shopper!
| | | |
| --- | --- | --- |
| Criterion | Current | New w.e.f. June 3rd, 2013 |
| Minimum purchase amount | US$ 40.00 | US$ 50.00 |
| Type of products eligible | Categories [A], [B] and [C] only. | ALL products except Marketing Tools and certain spare parts. |
This revision is also applicable to existing VIP Shoppers who are renewing their membership with us. Other benefits, privileges as well as terms and conditions of our VIP Shopper Program shall remain the same.
We trust this revision is a welcomed one and is designed to make it even easier for you to sign up more and more VIP Shoppers, so start spreading the word TODAY! Please visit our website or feel free to contact our US Member Services department at (714) 888–2160 during usual business hours of Monday through Friday, 8:30am – 5:30pm Pacific Time should you require more information.
Wishing you every success!
The Management
eCosway USA
---
| | |
| --- | --- |
| March 26, 2013 | |
---
Welcome to Our New President!
We are extremely excited to announce that on April 1, 2013, Glen Jensen http://www.linkedin.com/profile/view?id=54346&trk=tab_pro will become President of eCosway USA.

Glen began his career in the Direct Sales Industry as a customer service agent at Nu Skin. He later worked with a multi–billion pharmaceutical company in Japan before being hired as the International Director of Neways where he launched the company in Japan and Russia and built revenues of millions per month.
His next adventure was to start his own company, Synergy Worldwide, which became one of the fastest growing new businesses in America. He eventually sold Synergy to Nature's Sunshine where it still operates successfully today. In 2004, Glen came up with a revolutionary product concept and founded Agel Enterprises which grew rapidly into a Top 100 Global Network Marketing company within a mere two years.
Finding a President who would be a perfect fit for eCosway USA has been a long search. Our unique hybrid business model and complex infrastructure calls for a leader with a very extensive and diverse background. Stephanie Davis has been helping us with our launch and with this search. Now that we have Glen Jensen to take us into fast–track expansion, Stephanie is eager to move back to her family and back to her true love – training and supporting the field. We appreciate all that she has done for us and wish her all the best in years to come.
Please join us in extending a very warm welcome to Glen. We believe that his extensive experience and love for cutting–edge concepts make him particularly suited to spearhead the next chapter of our success. Stay tuned for exciting changes and explosive growth ahead!
Sincerely,
The Management
eCosway USA
---
| | |
| --- | --- |
| November 09, 2012 | |
---
Good News Regarding VIP Upgrade to IBO!
Good News! We are happy to announce that the VIP to IBO upgrade policy has been updated!
If a VIP paid $20 to join, he or she will no longer have to pay another $60 to upgrade to IBO. The upgrade will only cost the difference! If the system detects that a VIP paid $20 already, it will prompt them to pay just $40 to upgrade to IBO.
Please note: With the $40 upgrade, the new IBO will only receive 40 RPs (not 60) and they will not get another starter kit. (They got one as a VIP)
Please note that VIPs that got their membership FREE (by purchasing $40 worth of products) will still have to pay the full $60 to become an IBO. They will still get 60 RPs and another kit.
This option is now functioning online and offline at our stores. To see screen shots of how to do it online, please click the following link:
http://www.ecosway.com/ecos_us_files/general/en_US/VIP_Upgrade.pdf
You asked, we heard, we made this change!
Committed to Your Success,
eCosway Management
---
NEW! Hexagon Water Filtratio
| | |
| --- | --- |
| September 18, 2012 | |
n System 2
Exciting news – eCosway is proud to announce the introduction of our NEW AND IMPROVED Hexagon Water Filtration System 2!
This upgraded second–generation model delivers all the same benefits as our original best–selling Hexagon, plus …
Improved cartridges with thicker filtration media allow a more thorough filtration against various contaminants and odors
Stronger materials and construction designed to withstand even the highest in–home water pressure
All the filtration and water–enhancement processes are now housed within 3 cartridges instead of 4 for greater efficiency
Every year, thousands of people flock to places like Lourdes, France … Nordenau, Germany … Tlacote, Mexico … and Nadana, India – to drink natural spring water believed to have special healing powers that can slow down the aging process and dramatically improve their health.
The Hexagon 2 is ingeniously designed to produce the same properties found in this so–called "Miracle Water" – using ordinary tap water!
Here's a sneak peek at what the various Hexagon 2 components do:
Cartridge 1
Removes micro particulate contaminants, sludge and rust
Removes chlorine
Cartridge 2
This cartridge is a specially blended mineral block that produces:
Hydrogen–rich water
Alkaline water with pH between 8 and 10
Bio–available ionized minerals
Cartridge 3
Absorbs organic and inorganic chemicals from the water
Contains KDF to help neutralize heavy metals
Ensures thorough removal of chlorine, chloramines, unpleasant odors and colors
Makes the water sweeter by infusing it with minerals
Magnetic Rings
The rings help to further break down the water molecule clusters.
E.A. (Energy Activating) Device
The first of its kind in the world, this infuses energy into water through natural spiraling movement. The rotation breaks water molecules down into smaller clusters, making them more absorbable.
Now everyone can afford the healthiest water available … at a fraction of the cost of expensive, less healthy bottled water!
48121 – Hexagon™ Water Filtration System 2: $620.00 (200eV)
IU1710 – 200eV Special Set: $399.00
---
| | |
| --- | --- |
| November 01, 2011 | |
---
Special Announcement: New Discount Sets, Profit Plan Enhancements
Dear United States IBOs,
We are pleased to announce the following enhancements, which go into effect on November 1st:
New 100eV Special Discount Sets
In addition to our regular Special Sets, we're adding a new category of sets for new members to take advantage of - "100eV Special Discount Sets". New members (IBOs and VIP Shoppers) who register on or after November 1, 2011 will be entitled to order ONE 100eV Discount Set within their first 30 days after registration.
There are currently nine 100eV Special Discount Sets for new members to choose from. Each set contains a Scalar Energy Pendant and other products. These sets offer a savings of at least $60 off the retail price. The 100eV Special Discount Sets pay the upline a Direct Profit of 10% of the purchase price. Please visit the website or your local eCosway store to see what's in each 100eV Discount Set.
Easier Monthly Profit Qualifications
Effective November 1, 2011, it will be easier for IBOs (both current and new) to qualify for profits of up to $100 per profit center.
If a profit center's earnings will be up to $50, your Personal Branch only needs to generate 5eV for that profit center to qualify (previously 15eV), and it does not need to have any Qualifying Units (QUs) available (previously 5QUs were needed).
If a profit center's earnings will be $50.01 - $100, your Personal Branch only needs to generate 10eV for that profit center to qualify (previously 15eV), and it does not need to have any QUs available (previously 5QUs were needed).
Here is a chart showing the updated monthly profit qualifications per profit center effective November 1, 2011: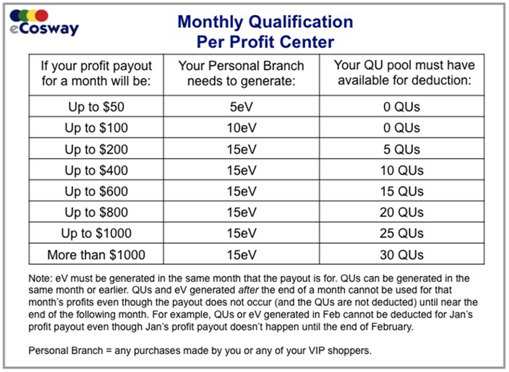 Streamlined Initial Qualification Period
New IBOs registering on or after November 1, 2011 will have the following initial qualification alternatives for taking advantage of the eCosway Profit Plan: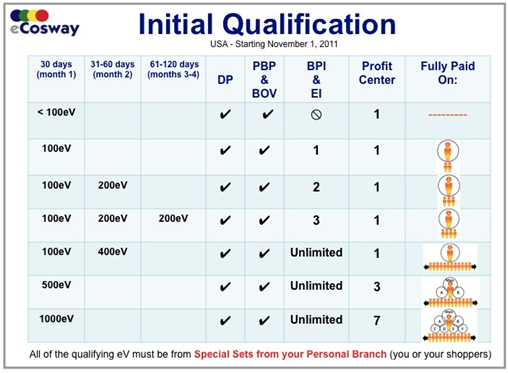 New IBOs registering on or after November 1, 2011 who do not meet their desired initial qualifications in a timely fashion may also use the following make-up alternatives: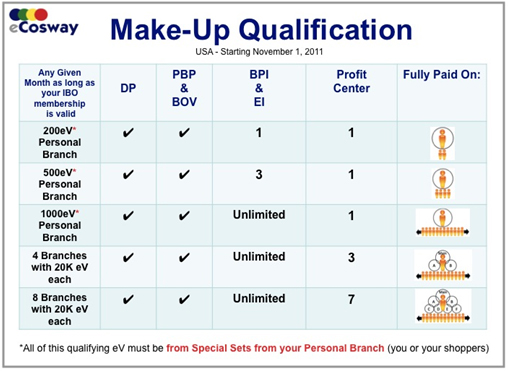 To learn more about the eCosway business model and profit plan, please watch the weekly Thursday night webinars beginning at 6:00pm Pacific Time. Log on at http://www.instantpresenter.com/ecosway1
Yours faithfully,
The Management
eCosway USA